Expert-Recommended Tips for Safe Shopping
Posted on April 11, 2020
Here are tips experts recommend shoppers take to stay safe:
Wear a cloth face mask and wash it when you get home.
Bring hand sanitizer. Use disinfectant wipes on the cart or basket.
Bring as little as possible into the store to avoid contamination.
Stay at least 6 feet from others, especially in the checkout line or in an aisle.
Shop alone and leave children at home, if possible.
Limit the time in the store: Make a list to save time and use paper so you can throw it away.
Throw away plastic and paper bags. If you must use cloth bags, wash them after each use.
Wash your hands before and after you unpack groceries, and before you wash produce or prepare food.
For more information regarding safe practices during COVID-19, visit the Centers for Disease Control and Prevention's website.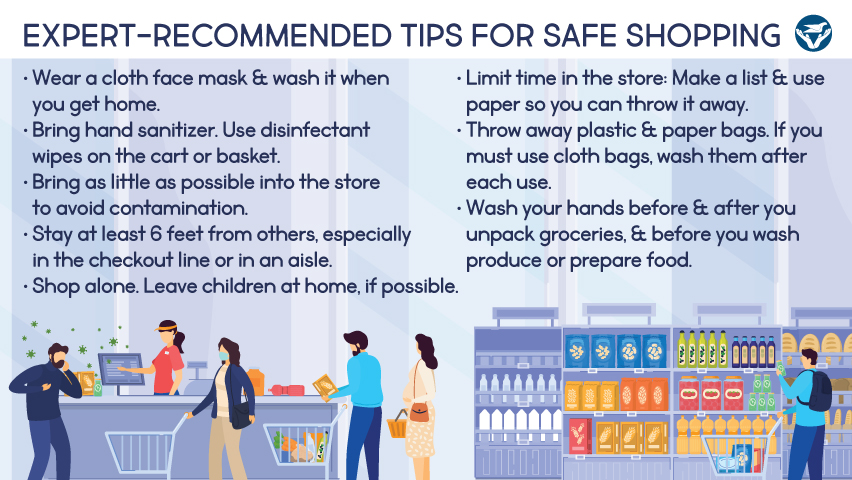 Consejos Recomendados por Expertos para Hacer Compras y Evitar Contagio
Publicado 11 abril 2020
Aquí hay algunos consejos que los expertos recomiendan que los compradores tomen para mantenerse seguros:
*Use una máscara facial de tela y lávela cuando llegue a casa.
*Traiga desinfectante para manos. Use toallitas desinfectantes en el carrito o la canasta de compras.
*Lleve lo menos posible a la tienda para evitar la contaminación.
*Manténgase al menos a 6 pies de distancia de los demás, especialmente en la fila de pago o en un pasillo.
*Compre solo y deje a los niños en casa, si es posible.
*Limite el tiempo en la tienda: haga una lista para ahorrar tiempo y use papel para poder tirarlo.
*Tire las bolsas de plástico y papel. Si debe usar bolsas de tela, lávelas  después de cada uso.
*Lávese las manos antes y después de desempacar comestibles, y antes de lavar productos o preparar alimentos.
Para obtener más información sobre prácticas seguras durante COVID-19, visite el sitio web de los Centros para el Control y la Prevención de Enfermedades.